The Story
Carleton Financial Services was formed when an industry veteran recognized that the best way to serve his clients was by going out on his own and bringing together a talented team for support. Leveraging over 35 years of solving financial planning challenges for his clients, Rob Dempster, along with his support team and some important industry allies, has created a firm that clients have come to count on.
From his office based in "the Glebe" in Ottawa, the Carleton Financial Services team continually build relationships that are not only real and reliable, but that are heartfelt and affirming. They know that the most important things to grow and protect are our relationships, and they live that with their clients every day.
| | |
| --- | --- |
| | An excerpt from our media files: Rob Dempster talking about our role as advisors. |
Rob Dempster, CFP, CLU
President, Wealth Coach,
Certified Financial Planner,
Chartered Life Underwriter
Geoffrey Dempster, HBComm
Vice President, Wealth Coach

Kari Larouche
Executive Assistant and Operations Manager
Victoria Bowmaster
Manager, Client Relations
Wealth and Tax Planning Consultants
Daniel Sullivan, BBA
Senior Vice President, Group Benefits & Retirement Services at Gallagher Benefit Services (Canada), Inc.

Rob Dempster, CFP, CLU,
President, Wealth Coach,
Certified Financial Planner,
Chartered Life Underwriter

Phone: 613-231-7700 x225
Email: rob@carletonfs.com
If you ask Rob Dempster what impresses him, he'll answer very quickly that "people impress me, things don't." And those are reassuring words to hear from a senior financial advisor. Why is that reassuring? Rob is focused on the individual and what they truly want to achieve, not just what they can have.
It's not really that surprising to hear Rob talk that way because in both business and outside of the office he's a coach – he just can't help it. At work, he's a wealth coach and works with his clients to help them grow their wealth and protect their wealth. Outside of work, he has been a very active hockey and baseball coach his entire adult life and if you ask Rob, he'll tell you that one of the most challenging parts of coaching sports can be getting heard over the advice of the parents! Rob knows they're trying to help, but he also knows that he's the one who can bring out the best in his team. He knows their strengths, their weaknesses, what motivates them and where they flourish.
Interestingly, it's much the same as a wealth and risk management coach. People start listening to all kinds of people who are likely not qualified to give them the right advice. But Rob takes the time to know his clients and understand their financial strengths and opportunities. He knows how to help them play their strongest long game.
So when you chat with Rob, you'll find out that he wants to help you get what you want – and he might even push you a bit to help you do so; just like any good coach would.
As a father of two adult boys, Rob gets to deliver good leadership at home as well. Much like many of his clients, Rob and his wife are very busy with not only the hustle required for two young student athletes, but also with the wisdom transfer that kids need from their parents. Rob's son Geoffrey is now working with the firm while finalizing his finance degree and playing hockey at Lakehead University. So, when you put together the family responsibilities, the work life and the community commitments – Rob understands it when his clients tell him how busy they are. He lives the same experience.
Other interesting Rob Dempster data:
Served as a senior financial consultant with a major financial institution for 20 years
Created Carleton Financial Services Inc. together with Founding Partner, Ken Guarisco, a full service independent financial planning firm in 2002
Created Dempster Financial Group Ltd. to serve local business owners, currently President in 1999
Is a founding member of the Ottawa Junior Board of Trade
Is a member in good standing of the following certifications and designations:

Chartered Life Underwriting (CLU) – CLU is a professional designation for individuals who wish to specialize in life insurance and estate planning.
Certified Financial Planner (CFP) – CFP is the most widely recognized financial planning designation in Canada and worldwide, the CFP designation provides assurances to Canadians that the design of their financial future rests with a professional who will put their clients' interests ahead of their own.
Advocis – Advocis is the largest voluntary professional membership association of financial advisors in Canada offering designations, continuing education opportunities, industry-leading publications and membership in a chapter network with incredible mentorship programs, study groups, practice development and more.
Conference for Advanced Life Underwriting (CALU) – CALU is the leadership in innovative advanced planning solutions and advocacy to promote the financial health of Canadians. Their mission is to promote a deeper understanding of complex financial and tax initiatives for members and clients and influences sound public policy.
Life and Qualifying Member of Million Dollars Round Table (MDRT) – MDRT is a global, independent association of the world's leading life insurance and financial services professionals. MDRT is recognized internationally as the standard of excellence in the life insurance and financial services business.

Has a licence to practice in Ontario, Quebec, Alberta, Nova Scotia, Prince Edward Island, Yukon and New Brunswick
Was selected for his professionalism to be a member of the Executive Council of the Wealth and Estate Planning Group, a part of Freedom 55 Financial, a division of London Life Insurance Company
Was instrumental in securing public action for building Highway 416
Is a founding member of the Community Foundation of Ottawa-Carleton
Earned his B.Comm Honours in Sports Admin at Laurentian University
Was on the board of directors at Laurentian University
Has been actively involved in several local charities and community causes including Kiwanis, Cancer research, the Heart & Stroke Foundation, St. Pat's Home, MS Society, Diabetes Canada, Community Living Renfrew, Bruyère Foundation, CHEO Foundation and Ottawa Hospital Foundation
Has been very active in coaching both minor hockey and baseball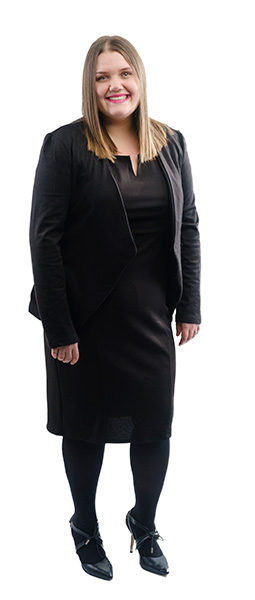 Kari Larouche

Executive Assistant & Operations Manager
Phone: 613-231-7700 x228
Email: kari@carletonfs.com
The first thing you notice when you meet Kari is her warmth, caring nature and willingness to help in any situation. As you work with her, you find that coupled with those attributes, she is a highly skilled fluently bilingual communicator with exceptional organizational skills.
A natural leader, proven from her experience as a Law Clerk and a licensed Paralegal managing countless cases for junior lawyers to working as a Director of an exciting and innovative start-up company and to being a captain of her co-ed softball team, she will take on any risk.
In order to run the business successfully, Kari will work directly with Rob to coordinate and manage all areas of the operation to ensure efficiency and compliance requirements are met along with taking care of handling Rob's schedule and all marketing needs. Not only will Kari be working directly with Rob, Kari will lead and support all team members.
Kari's skills in organization, time-management and her ability to work well under pressure with a positive attitude will undoubtedly be a great asset to her new team.
Outside of the office, Kari enjoys spending time with her family (and giant fur babies!), playing co-ed softball and keeping her every-day life organized!

Victoria Bowmaster

Manager, Client Relations
Phone: 613-231-7700 x222
Email: victoria@carletonfs.com
Born and raised in Ottawa, Victoria comes to us with extensive experience in the customer service and financial services industry. She is passionate about helping people reach their goals and making a difference in their lives. Clients are at the centre of Victoria's universe.
Victoria's priority is building client relationships, servicing clients, and providing personal and corporate planning support to Rob. She is the first point of contact for incoming client calls, processes all risk management and investment management files, and ensures follow-up action items are taken care of. Victoria is very organized, detail-oriented, and able to multitask.
Her educational background includes an Advanced Business Administration Diploma from Algonquin College and a Bachelor of Commerce Degree from Nipissing University. Previously a Planning Support Associate for a large insurance company, she joined Rob's team in October 2021.
In her spare time, she enjoys the outdoors, spending time at her family cottage and cuddling with her two cats.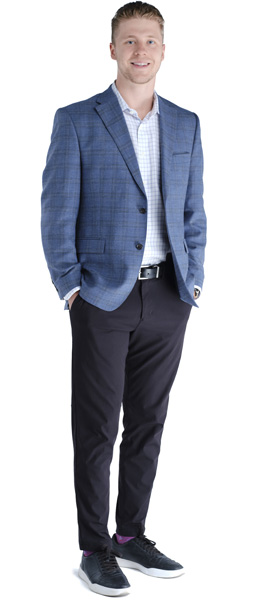 Geoffrey Dempster, HBComm
Vice President/Wealth Coach

Phone: 613-231-7700 x227
Email: geoff@carletonfs.com
Geoffrey, a recent graduate brimming with enthusiasm and determination, is thrilled to embark on a full-time journey with the team at Carleton Financial Services Inc. His academic accomplishments include a Bachelor of Commerce degree in Finance with a minor in Marketing from Lakehead University. Notably, he earned two Academic All-Canadian Awards from Usports during his tenure on the Lakehead Men's Ice Hockey team, leaving a remarkable impression on his university experience.
Having actively participated in competitive team sports for over a decade, Geoffrey has honed his interpersonal and leadership skills, shaping him into a well-rounded individual. He attributes his achievements to his unwavering commitment to community and sport, bolstered by strong core values, a strong work ethic, and the establishment of personal goals.
Geoffrey eagerly anticipates collaborating with local Ottawa businesses, business owners, families, and community members, as he looks to contribute to their financial well-being and offer them peace of mind. Recognizing the profound impact of education, he intends to work closely with his clients to enhance their financial literacy, empowering the younger generation to make informed decisions about their financial matters.
Geoffrey's proficiency in being bilingual adds another valuable dimension to his skill set, which we look forward to utilizing for Rob's existing clients and those to come.



Wealth and Tax Planning Consultants
Our Wealth and Tax Planning Consultants work in partnership with Carleton Financial Services Inc. and the Dempster Financial Group Ltd. Team to provide advanced tax solutions and strategies for our high-net worth clients. By understanding their current plan and making recommendations for re-organization in conjunction with our clients accounting and legal team. They also make recommendations with respect to insurance products and tax implications.
We do everything to ensure that our clients are provided with the top solutions and strategies that one would expect from a Wealth and Tax Planning Consultant.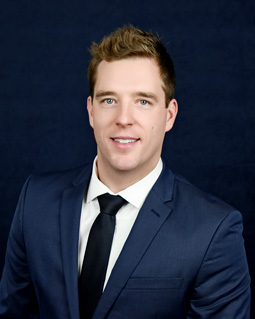 Daniel Sullivan, BBA

Senior Vice President, Group Benefits & Retirement Services at Gallagher Benefit Services (Canada), Inc.
Phone: 613-670-8488
Email: daniel_sullivan@ajg.com
Dan is a trusted and experienced consultant and works closely in partnership with Carleton Financial Services Inc. and Dempster Financial Group Ltd. team with our business owner clients in the areas of employee benefits and retirement consulting.
Upon graduating from the State University of New York at Geneseo with a BS in Business Administration and a minor in Sociology, he began his career with a leading national Canadian insurance carrier. His work in business development and underwriting gave him a wealth of knowledge and understanding of the supplier side of insurance. Today, this knowledge has helped his clients navigate the difficult and challenging landscape of insurance carriers. employee benefits.
He joined the Gallagher team in 2015. His integrity and enthusiasm has been a natural fit with the local team as a Senior Consultant (update title to be Sr. Vice President) for Benefits and Retirement. While Dan enjoys all aspects of his role, he would be quick to say that he finds it most rewarding working with such a diverse client base providing them with peace of mind, knowing that their employee benefits and retirement needs are being taken care of to achieve their personal and organization goals.
What makes Dan and Gallagher different for our clients is their organizational philosophy and approach to consulting that is unique and best practices?
– Better physical & emotional wellbeing
– Better financial wellbeing
– Better career wellbeing
– Better organizational wellbeing
Dan holds himself to the highest ethical standards which aligns with Gallagher as the only insurance brokerage firm to be named one of the most ethical companies in the world by Ethisphere for 9 straight years.
Some of the capabilities and proprietary tools our clients value:
– Benefits strategy and benchmarking survey
– Humaniqa HR – 24/7 Online HR resource tool
– Workforce evaluation tool
– Organizational wellbeing assessment tool
– Compensation evaluation
– Annual Canadian guide to employee benefits, monthly Gallagher Better Works™ emails, legislation updates, Canadian Trends Tour and many other webinars and learning opportunities
– Total rewards approach to investment in health and retirement benefits